Rick Scott set a record for a pay-your-own-way congressional campaign by spending more than $51 million to win a Senate seat from Florida.
The Republican governor and former businessman defeated incumbent Sen. Bill Nelson (D) in a race that may end up ranking as the most expensive Senate contest ever once all types of spending are tallied.
Cumulatively, congressional candidates dipped into their own bank accounts for more than $200 million in this cycle.
Here are the 10 who made the largest investments in themselves: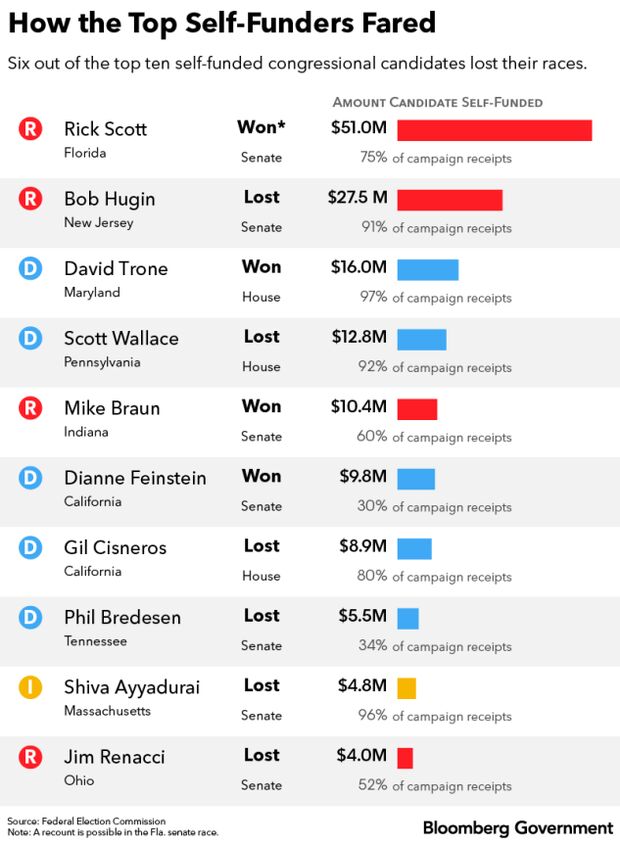 Campaign contributions to federal candidates are limited, but the Supreme Court has ruled that candidates can spend as much of their own money as they want.
With assistance from Madi Alexander
To contact the reporter on this story: Kenneth P. Doyle in Washington at kdoyle@bgov.com
To contact the editors responsible for this story: Katherine Rizzo at krizzo@bgov.com; Brian Nutting at bnutting@ic.bloomberglaw.com