Sen. Scott puts court nominees' credentials over diversity
Fight brewing over judicial pick's work for Helms during 1990s
The face of the federal judiciary is becoming more white and more male — a trend that's about to accelerate as Senate Majority Leader Mitch McConnell pushes to enhance his party's imprint on the federal bench.
So far, 88 percent of the additions to the federal bench confirmed since President Donald Trump took office are white, according to the Alliance for Justice, an advocacy group that tracks nominations. Men comprise 76 percent of the new judges, according to figures the group compiled as of June 7.
The Senate recently confirmed the sole Hispanic in Trump's judicial lineup: Fernando Rodriguez to serve as a judge in the Southern District of Texas.
Of the 78 judicial nominees awaiting confirmation, 59 are men, according to the group. Two are black, four Hispanic, and two Asian Pacific American. And of the 10 appellate court nominees awaiting Senate action, nine are men.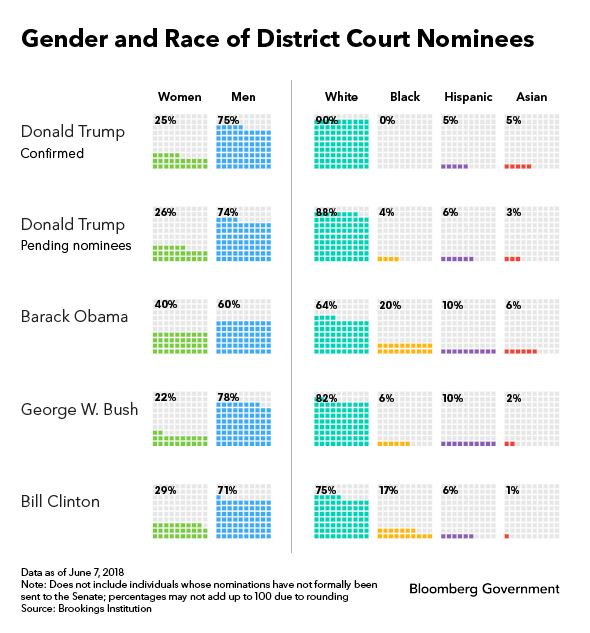 Though the U.S. Supreme Court has the final say in interpreting federal laws, relatively few cases get decided there.
"Most of the law being made is being made by these lower court judges," said Rorie Solberg of Oregon State University's School of Public Policy. "And the circuit courts serve as feeders to the Supreme Court."
The federal courts of appeal handled almost 60,000 cases during a recent 12-month period (through March 2017) and the district courts more than 270,000 cases in the year ending June 30, according to Justice Department data analyzed by Solberg. The Supreme Court hears between 80 and 90 cases each year, she said.
Supreme Court Justice Neil Gorsuch and the 41 circuit court and district court judges confirmed by the Senate since Trump took office 16 months ago represent an 88 percent white roster and include no African Americans, according to the Alliance for Justice. The new judges also are overwhelmingly male – 76 percent of the nominees confirmed so far, the group reported.
Trump recently announced plans to send to the Senate 10 more judicial nominations, including those of four women and one African-American man to serve in the district courts.
"When he started out it was a bastion that looked like the federal judiciary of the 1950s," said Russell Wheeler, a fellow at the Brookings Institution who tracks judicial nominations. "That's been changing gradually, but I don't expect it's going to change in a big way."
If the Senate confirms all of the current and announced nominees, there will be 98 male and 31 female Trump appointees on the bench.
"It will be a dent in the bucket," Solberg said of the most recent female picks.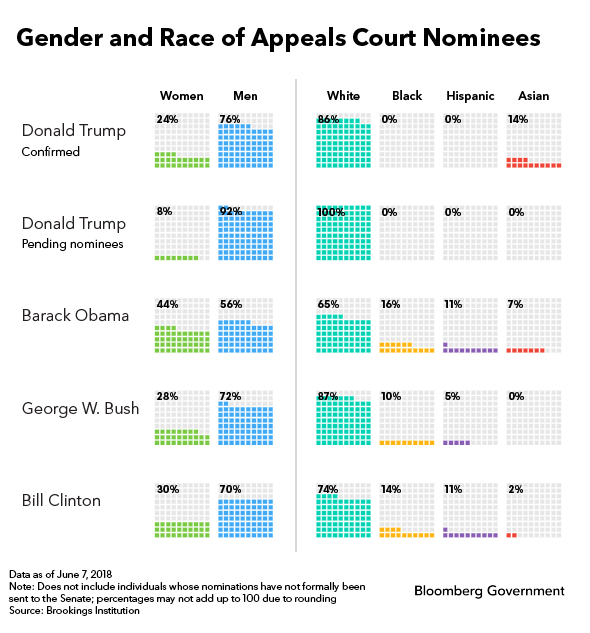 Previous Presidents
Wheeler said white males made up 53 percent of Presient Bill Clinton's district court nominees and 69 percent of President George W. Bush's picks.
During Barack Obama's presidency, 38 percent of judicial nominees were white males, according to Wheeler's data.
"Of the Asian-Americans on the federal bench Obama appointed over half of them," Wheeler said.
Nonwhite Hispanics and other racial minorities now make up 38 percent of the nation's population, according to the Pew Research Center.
Three of Trump's circuit court nominees and one district court nominee were white appointees chosen to succeed retiring minorities.
"Almost 20 percent of his nominees are decreasing diversity on the bench," Solberg said.
In announcing his latest batch of judges Trump said he plans to nominate Rossie Alston, an African-American, to serve as a judge for the Eastern District of Virginia. Alston would replace Gerald Lee, also an African-American.
Emphasis on Ideology
"The Trump administration has placed a high value on ideological conformity," Judiciary Committee member Chris Coons (D-Del.) said in an interview. "Their judicial nominees are overwhelmingly active members of the Federalist Society and they have placed a relatively low priority on nominating people to the federal judiciary to reflect the full diversity of the United States."
Sen. Tim Scott(R-S.C.), the lone African-American in the Senate Republican Conference, said in an interview that credentials and judicial philosophy are the most important factors for a judicial nominee.
"Diversity is important but the most important thing is that they are qualified candidates," Scott said. "I've been pleased with the highly competent nominations we've been making."
Sens. Kamala Harris (D-Calif.) and Cory Booker (D-N.J.), the other two senators who are racial minorities, look at the same lineup of nominees and say they see a bias.
"There are so many with a background in jurisprudence who could be nominated instead of those with a pure ideological background," Harris, who's of Jamaican and Indian descent, said in an interview. "Remember, these are lifetime appointments."
Harris and Booker strongly oppose the nomination of Thomas Alvin Farr to be a judge for the Eastern District of North Carolina. Farr worked for former Sen. Jesse Helms (R-N.C.), including in 1990, when more than 100,000 black voters were sent postcards saying they weren't eligible to vote.
Groups opposing the nomination include the National Association for the Advancement of Colored People.
See also:
Election-Year Calculations
McConnell (R-Ky.) said he isn't taking GOP control of the Senate next year for granted, describing in a number of recent interviews a chamber "in play" with close contests that threaten the party's 51-vote majority.
If Democrats control the confirmation process in the next session of Congress, they could put Trump's nominees on ice, just as McConnell did with President Barack Obama's judicial picks.
McConnell said work on nominations will continue into August and also said he's willing to keep the chamber in session until New Year's Eve if necessary to install more Trump choices on the bench.
"In a world where it's hard to get anything else done around here that's the one thing we can get done that will have a lasting legacy for the administration and this Congress," said Senate Majority Whip John Cornyn (R-Texas).
To contact the reporter on this story: Nancy Ognanovich in Washington at nognanov@bgov.com