Senate farm bill would remove industrial hemp from drug list
House and Senate will conference the bills in the coming weeks
Long shunned for its association with marijuana, industrial hemp could make a comeback in tobacco-growing states like Kentucky if the Senate farm bill is enacted into law, advocates say, even as they're still trying to figure out how to best grow the crop.
The Senate passed its substitute to H.R. 2 June 28 on an 86-11 vote. The measure included language from Senate Majority Leader Mitch McConnell (R-Ky.) to legalize hemp as an agricultural commodity by removing it from the federal list of controlled substances and giving states the opportunity to be the primary regulators of hemp production.
Industrial hemp was once an abundant crop in Kentucky but was outlawed and replaced by tobacco, a commodity now considered taboo by some due to its use in cigarettes and worries over cancer. Hemp proponents say the farm bill has the potential to revamp the hemp industry and help fill the void left by tobacco's declining popularity.
"I have heard from many Kentucky farmers who agree it's time to remove the federal hurdles and give our state the opportunity to seize its full potential and once again become the national leader for hemp production," said McConnell in a press release following the Senate farm bill's passage.
The stigma surrounding hemp comes from the idea hemp is the same as cannabis, the plant also known as marijuana. While both hemp and cannabis come from the same species, cannabis has glands known as trichomes with high amounts of tetrahydrocannabinol (THC), which has psychoactive effects. Hemp, on the other hand, contains just trace amounts of THC. Only products made from industrial hemp with less than 0.3 percent of THC are legal to sell, buy, consume, and ship.
The hemp flowers and seeds can be used in organic body care products and health foods. The fiber and stalks are much tougher and can be used in construction materials, paper, and plastic composites.
The farm bill would reauthorize commodity, trade, agricultural research, rural development, and food and nutrition programs. Under current law (Pub. Law No. 113-79), authorizations will expire Sept. 30 or the end of the applicable crop year. The House's version of the farm bill does not include the hemp language. Next up will be a conference committee to attempt to reach a compromise on a measure that would be approved by both chambers and then sent to President Donald Trump's desk.
Hemp Hype
Ahead of the passage of the Senate farm bill, hemp advocates ramped up their lobbying efforts on McConnell's legislation and related bills. The January to March 2018 quarter saw six more organizations lobby for industrial hemp compared to the same period in 2017.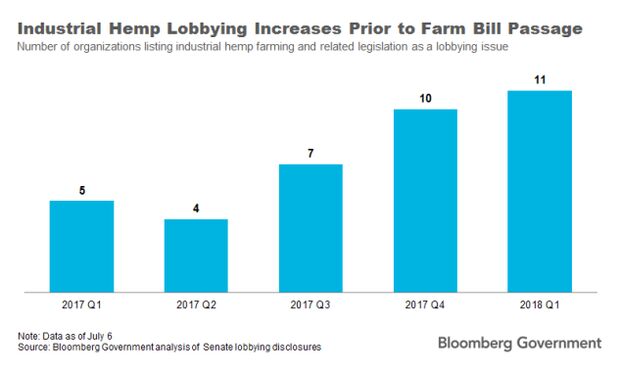 The U.S. Hemp Farming and Business Roundtable, a coalition of dozens of hemp companies, was among those lobbying in the first quarter of 2018 to get hemp legalization passed.
"We're very hopeful and confident the bill as is will pass through and we remain vigilant," Jonathan Miller, general counsel to the roundtable, told Bloomberg Government.
Miller said it will all come down to the House-Senate conference committee, which Senate Agriculture Committee Chairman Pat Roberts (R-Kan.) said last week will happen fairly soon.
Farming Potential
Farmers have already started trying to figure out the the fibrous plant thanks to the last farm bill, enacted in 2014, which allowed state Agriculture Departments and colleges and universities to conduct industrial hemp pilot programs.
GenCanna, a research farm near Winchester, Ky., on nearly 150 acres formerly used by a multi-national tobacco firm as a research facility, is working to develop the best farming practices for the crop.
"Right now it's very labor intensive because we're just figuring it all out," Steve Bevan, president of GenCanna, told Bloomberg Government.
The farming method is still in its beginning stages, said Bevan who is taking tools and equipment from other agricultural products and adapting them to hemp "until we're able to adopt equipment safely and effectively."
Joseph Sisk, a Kentucky farmer who grew tobacco until 1998 when he turned to corn and soybeans, is now in his third year of producing industrial hemp through the pilot program and sees huge potential for it.
"I've been trying to stay involved in it all and I'm certain when and if this passes that it's going to be very beneficial to me," Sisk told Bloomberg Government. He grows hemp for cannabidiol, also known as CBD, which is a naturally occurring constituent used as a natural pain and anxiety remedy.
Crop Coverage
In addition to removing hemp from the federal controlled substance list, the Senate farm bill would allow industrial hemp to be eligible for crop insurance, a perk already enjoyed by other, more traditional crops.
Sisk says access to crop insurance would be a relief for him since he is "completely uncovered" right now.
"Crop insurance is a big tent, and we want to provide all types of farmers in all regions ways to insure their crops," Tara Smith, vice president of federal affairs at Michael Torrey Associates LLC, a government affairs firm that focuses on agriculture and food, told Bloomberg Government.
"Hemp farmers will need risk management tools as much as a wheat farmer or a cotton farmer," said Smith.
To contact the reporter on this story: Teaganne Finn in Washington, D.C. at tfinn@bgov.com
To contact the editors responsible for this story: Paul Hendrie at phendrie@bgov.com; Jonathan Nicholson at jnicholson@bgov.com; John R. Kirkland at jkirkland@bgov.com