Competition is heating up inside the 8(a) program, which sets aside federal contracts for socially disadvantaged vendors. In fiscal 2017, for the first time, federal spending on competitively awarded 8(a) contracts exceeded spending on sole-source 8(a) contracts.
In fiscal 2017, 8(a) sole-source obligations totaled $8.55 billion, the 9th lowest sum in the last 10 years, while 8(a) competitive contracting reached $8.56 billion, its second-highest annual total ever. Although the difference is vanishingly small, it is an historic inflection point for the government's oldest set-aside program for disadvantaged business owners.
The convergence of congressionally imposed restrictions on large 8(a) sole-source contracts and government efficiency initiatives such as Category Management has driven 8(a) dollars toward competition and away from sole source.
Spending on large, sole-source awards to 8(a) businesses has given way to set-asides competed between companies that hold slots on multiple-award contracts, such as 8(a) STARS II; Chief Information Officer Solutions and Partners 3 Small Business (CIO-SP3 SB); and the General Services Administration's IT Schedule 70.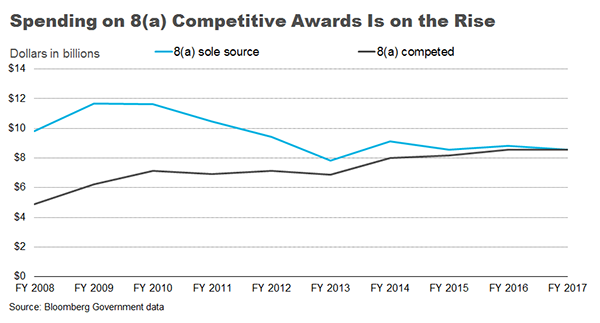 Concerns over allegations of abuse in the 8(a) program led Congress to impose a new rule in the fiscal 2010 National Defense Authorization Act that required agencies to issue a Justification and Approval (J&A) document before awarding an 8(a) sole source contract with an estimated worth of more than $20 million. The rule went into effect in March 2011.